Our Achievements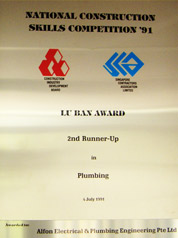 Lu Ban Award in Plumbing
4 July 1991
2nd Runner-Up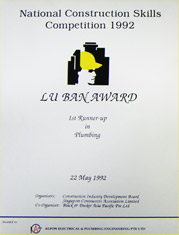 Lu Ban Award in Plumbing
22 May 1992
1st Runner-Up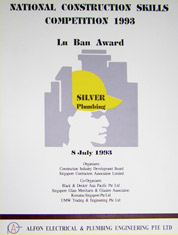 Lu Ban Award in Plumbing
8 July 1993
Sliver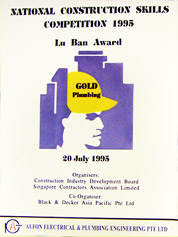 Lu Ban Award in Plumbing
20 July 1995
Gold
Company Profile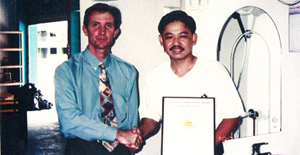 Alfon Plumbing Pte Ltd, formerly known as Alfon Plumbing and Electrical Engineering Private Limited is a leading plumbing service provider delivering solutions to customers. Since its founding by Raymond Soh in 1987, the company has won and topped in various national construction skills competitions, including the prestigious Lu Ban Gold Award from 1991 to 1995 which is organised by the construction industry develeopment board.
Mr Raymond Soh is a P.U.B License Plumber and a Registered Plumber of the Singapore Plumbing Society.
PUB LICENSE WS/0612/1998
Registered Plumber of Singapore
Plumbing Society 19940471-P
NATIONAL CONSTRUCTION SKILL COMPETITION
1995 GOLD AWARD
1993 SLIVER AWARD
1992 BROZE AWARD
1991 BROZE AWARD

No Gst
We provide affordable and quality services, specialising all kinds of plumbing and sanitary works including:

General repairs
Renovation Works
Concrete Coring Service
Painting
Underground/concealed water pipe leakage
Water tank cleaning
Ceiling leakage
Application of water meter
Emergency blockage
Real Estate Agency
As our customer's trusted service provider, Alfon Plumbing Pte Ltd is motivated to provide the best solutions with affordable and quality services. We offer our customers piece of mind through timely delivery of service technical support with a quick response.
Feel free to contact us at Hp 97395732 or 67444717 / 67474594 anytime for any inquiry.